Reminder
Fall 2017
CSP & Capstone
October 1st preferred submission date of initial course materials (a syllabus and AP Course Audit form) for the 2017-18 school year.
Administrators
October 15 is the preferred date by which administrators should renew previously authorized courses that are again offered in the 2017-18 school year to ensure the inclusion of these courses in the initial publication of the AP Course Ledger in November.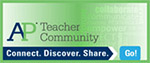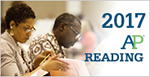 Apply Now
Join more than 15,000 college faculty members and AP teachers at the 2017 AP Reading.
Learning List

The College Board has partnered with Learning List to provide independent instructional materials review services for schools and districts for several redesigned and new subjects. More information about the alignment of each textbook is provided on the relevant example textbook lists. The Example Textbook Lists which were reviewed by Learning List are for Biology, Calculus, Chemistry, Computer Science Principles, Physics 1 and 2, Research, Seminar, U.S History and World History.