Reminder
January 31, 2018
Teachers - Deadline for the initial submission of course materials for the 2017-18 school year.
Administrators - Last day to: Approve Course Audit forms, renew courses, remove teachers not teaching or courses not being offered, and add Online/Distance Learning courses for the current school year.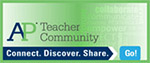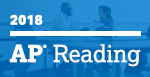 Become an AP Reader
Be part of what many educators describe as the best professional development ever.
For over 50 years, the College Board's Advanced Placement Program® (AP®) has been partnering with faculty at colleges, universities and high schools to prepare students for success in higher education while advancing excellence in high schools around the world. AP provides motivated and academically prepared students with a challenging program designed, approved and evaluated by faculty from some of the nation's leading liberal arts and research institutions such as Dartmouth; Harvard; Princeton; Yale; the University of California; Berkeley; the University of Florida; and the University of Virginia.
Maintaining quality and excellence has been the cornerstone of the AP Program since its inception and remains paramount to its continued success. The initiative, participation and guidance of colleges and universities ensure that the program continues to raise the bar for educational excellence.
Provides AP teachers and administrators with guidelines on curricular and resource requirements that must be in place for AP courses.
Gives colleges and universities confidence that AP courses are designed to meet the same clearly articulated college-level criteria across high schools.
More than 150,000 AP Teachers in more than 16,000 schools have completed the rigorous review process conducted by college and university faculty on behalf of the College Board.
As a result of the AP Course Audit, admissions officers and college faculty can be assured of the rigor of the courses that carry the AP label on student transcripts.
Gives colleges and universities free access to a searchable database more than 150,000 authorized AP courses in approximately 15,000 secondary schools worldwide.
Helps admissions offices develop richly informed school and student profiles throughout the outreach, recruitment and selection processes.
By searching for secondary schools with specialized content areas, admissions officers can engage in targeted student recruitment, and college faculty can implement AP teacher outreach and mentoring programs. With access to this rich AP Course Audit database, admissions and faculty can take the steps to work in collaboration with high schools to ensure that even more students are better prepared for college-level work.
Note: Institutions that wish to download the entire AP Course Audit database need to request data access through from the College Board. For more information please contact AP College and University Services at apcourseledger@collegeboard.org.
Learning List

The College Board has partnered with Learning List to provide independent instructional materials review services for schools and districts for several redesigned and new subjects. More information about the alignment of each textbook is provided on the relevant example textbook lists. The Example Textbook Lists which were reviewed by Learning List are for Biology, Calculus, Chemistry, Computer Science Principles, Physics 1 and 2, Research, Seminar, U.S History and World History.