Reminder
November 2017
The initial publication of the AP Course Ledger launches November 1. The Ledger is the official listing of AP courses authorized to use the AP designation. Be sure to submit materials for new courses and/or renew previously authorized courses before January 31, 2018 to ensure their inclusion in the 2017-18 AP Course Ledger.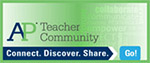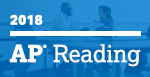 Become an AP Reader
Be part of what many educators describe as the best professional development ever.
Offering AP Seminar
AP Seminar is unique in that it can only be taught as part of the larger AP Capstone™ program. This course may only be offered to students at participating schools where teachers have completed the required professional development. High schools have already been selected for participation in the 2017-18 academic year. Schools interested in offering AP Capstone in the 2018-19 academic year will need to complete the application process. Visit the AP Capstone website to learn more about how to participate in this program.
Visit the AP Seminar website to learn more about how to participate in this program.
Course and Exam Description

Describes in detail the AP course and exam. Includes the curriculum framework and a representative sample of exam questions.
Review this resource to establish your understanding of the objectives and expectations of the AP course and exam.
Syllabus Development Guide

Includes the guidelines reviewers use to evaluate syllabi along with three samples of evidence for each requirement. This guide also specifies the level of detail required in the syllabus to receive course authorization.
Curricular/Resource Requirements
Identifies the set of curricular and resource expectations that college faculty nationwide have established for a college-level course.
Example Textbook List
Includes a sample of AP college-level textbooks that meet the content requirements of the AP course.
Five Annotated Sample Syllabi
Provide examples of how the curricular requirements can be demonstrated within the context of actual syllabi.
Review these resources to ensure that you have included the required level of detail in your syllabus to successfully complete the course audit.
Use this checklist to ensure that your syllabus includes all required elements before submitting for review.