Reminder
November 2017
The initial publication of the AP Course Ledger launches November 1. The Ledger is the official listing of AP courses authorized to use the AP designation. Be sure to submit materials for new courses and/or renew previously authorized courses before January 31, 2018 to ensure their inclusion in the 2017-18 AP Course Ledger.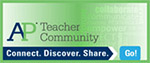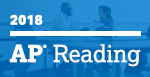 Become an AP Reader
Be part of what many educators describe as the best professional development ever.
Learning List

The College Board has partnered with Learning List to provide independent instructional materials review services for schools and districts for several redesigned and new subjects. More information about the alignment of each textbook is provided on the relevant example textbook lists. The new Example Textbook Lists which were reviewed by Learning List are for Biology, Calculus, Chemistry, Computer Science Principles, Physics 1 and 2, and World History.