Reminder
Fall 2017
CSP & Capstone
October 1st preferred submission date of initial course materials (a syllabus and AP Course Audit form) for the 2017-18 school year.
Administrators
October 15 is the preferred date by which administrators should renew previously authorized courses that are again offered in the 2017-18 school year to ensure the inclusion of these courses in the initial publication of the AP Course Ledger in November.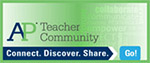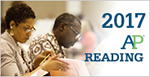 Apply Now
Join more than 15,000 college faculty members and AP teachers at the 2017 AP Reading.
The AP® Course Audit school administrator is the principal, or the principals designee, who is responsible for finalizing AP Course Audit forms, renewing authorizations from year to year, and assuring that the annual AP Course Ledger entry accurately reflects AP Course offerings at the school each academic year.
To receive authorization from the College Board to label a course "AP," teachers without previous authorization for their course(s) must submit two documents related to the course:
Each AP teacher is required to submit an electronic copy of his or her syllabus outlining the course of study to be followed.

"Submit New or Revised Syllabus" to submit a newly created syllabus.
"Claim Identical" to use a syllabus shared with a colleague. Teachers need to obtain the approved syllabus ID number from a colleague or administrator and submit an exact copy of the syllabus.
"Adopt Sample Syllabus" to submit one of the four annotated Sample Syllabus. Teachers need to obtain the approved syllabus ID number from the annotated Sample Syllabus they plan to adopt and submit an exact copy of the syllabus.

The subject-specific AP Course Audit form specifies the curricular and resource requirements that must be met in order to receive authorization to use the "AP" designation for a course. A school administrator must approve and finalize this electronic form before a syllabus can be reviewed.
For each new AP course submitted, the school's AP Course Audit administrator is required to complete an online AP Course Audit form.
Additionally, the school's AP Course Audit administrator is responsible for assisting with the following procedures:
Previously authorized courses can be renewed by a school administrator beginning in August of each academic year.
Teachers who change schools and wish to use their previously approved AP Course Audit syllabi can do so by selecting the Transfer Approved Syllabus option during syllabus submission in order to obtain course authorization at their new school.
Learning List

The College Board has partnered with Learning List to provide independent instructional materials review services for schools and districts for several redesigned and new subjects. More information about the alignment of each textbook is provided on the relevant example textbook lists. The Example Textbook Lists which were reviewed by Learning List are for Biology, Calculus, Chemistry, Computer Science Principles, Physics 1 and 2, Research, Seminar, U.S History and World History.